Child Health and Mortality Prevention Surveillance- Global
Childhood mortality is gradually declining over the past two decades, but still remains high. Despite multiple initiatives, approximately six million children under the age of five (16,000/day) still die every year (World Health Organization, 2015). Majority of those deaths are in the low income settings in sub-Saharan Africa and south Asia. In lower and middle income countries, individuals often die without having been seen by qualified medical personnel and are frequently buried or cremated without a documented medical history, before an evaluation of the cause of death can be conducted; many times these deaths are not counted at all. Even for those that die at a health facility, determining cause of death is often difficult due to the scarcity of diagnostic tools and multiple coexisting illnesses, which often leads to an incorrect or imprecise physician ascribed cause of death.
In response to the limitations of currently available data, the Child Health and Mortality Prevention Surveillance (CHAMPS) Network was established to develop a long-term network of sites in developing countries to collect robust and standardized primary data aimed at understanding and tracking the preventable causes of childhood deaths globally. These sites will help gather better data in a faster way and about how, where and why children are getting sick and dying. This data will help the global community and the countries in improving health delivery system and to manage cases in a better way to reduce child mortality. Furthermore, this data will help take the right interventions to the right children in the right place to save lives. The overall goal of the CHAMPS Network is, to-
Provide accurate, timely and reliable data on the causes of death for children under age five
Inform policy and program decisions aimed at reducing child deaths. 
CHAMPS is a multi-country project, currently being implemented in seven countries in Africa and Asia with a plan to expand in thirty countries over the next 20 years. The established and active sites in Africa includes Sierra Leone, Mali, South Africa, Mozambique, Kenya, Ethiopia and Bangladesh is the first country in Asia. Funded by Bill and Melinda Gates Foundation (BMGF), the Network is a collaborative effort of
Current CHAMPS sites in Sub-Sahara and South Asia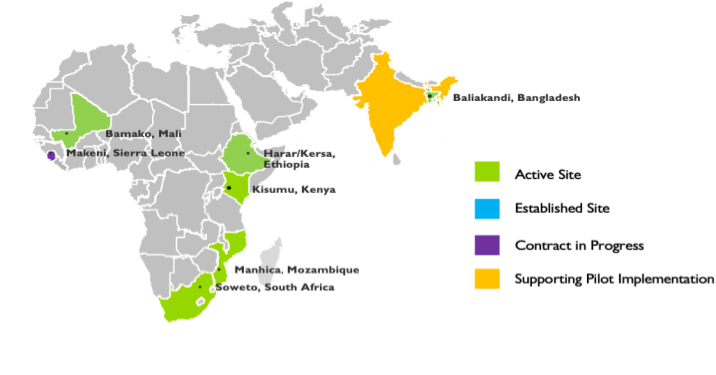 more than 135 global partners, including ongoing engagement with National Public Health Institutes, governments, in country organizations, universities, and program office staff from the Emory Global Health Institute of the Emory University, the United States Centers for Disease Control and Prevention, the International Association of National Public Health Institutes, the Task Force for Global Health's Public Health Informatics Institute, the University of Barcelona's ISGlobal, and Deloitte Consulting.
Important Links